Sam Ahmadpour
A college graduate of UCLA, Sam attended Loyola Law School in Los Angeles to master the art of trial in the best law school trial advocacy program offered in the state of California and Western United States (as recognized by U.S. News and World Report).
While in law school, Sam served as a law clerk in the Los Angeles County District Attorney's Office in the Crimes Against Peace Officers and Major Narcotics sections, working closely with some of the best prosecutors in the country. The very first case that Sam worked on was featured on the hit CBS crime and justice television show "48 Hours Mystery". Upon earning his Juris Doctorate degree and license to practice law by the State Bar of California, Sam was a prosecutor for over nine years, where he handled thousands of cases consisting of every charge, ranging from misdemeanor DUI to high profile murder trials.
Sam tried over fifty cases before a jury to verdict. Of the thousands of DUI's that he handled, Sam never lost a single case. In 2014, in the largest prosecutorial agency in the nation, Mother's Against Drunk Driving (MADD) recognized Sam by awarding him with the honor of being Los Angeles County Prosecutor of the Year.
Sam also served as Deputy District Attorney in the prestigious Victim Impact Program (VIP) unit within the Los Angeles County District Attorney's Office, where he regularly handled some of the most serious and complex cases in the office, including domestic violence and sex crimes, receiving media coverage from outlets including CNN, Huffington Post, LA Times, ABC, NBC, FOX, KCAL, KTLA, and the Daily Breeze.
Sam also regularly trained fellow prosecutors and police agencies on DUI issues, case investigation, testifying in court, 4th Amendment search and seizure issues, and juvenile law. Even as a defense attorney, law enforcement agencies still invite Sam to present training to police officers. Sam also enjoys mentoring other attorneys and students; he was was a regular panel invitee to speak with newly hired Los Angeles County Deputy District Attorneys, supervised and mentored certified law clerks on how to effectively handle preliminary hearings and motions, and an annual invitee by UCLA Law School to speak with students about careers in criminal law.
Sam is a regular guest speaker through the Youth Business Alliance, a non profit organization that focuses on bringing critical 21st century business skills and perspectives to students at disadvantaged high schools, and serves as a consultant to a law school professor on criminal law issues.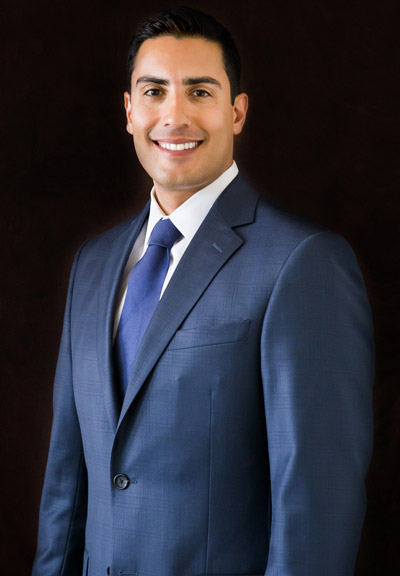 Contact Sam Ahmadpour
Make sure you have the proper defense. Get in touch with Sam today.